European Cleaning Journal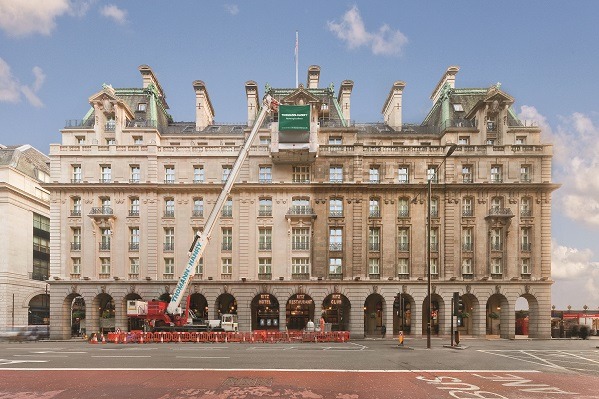 The Ritz restoration – the hotel in central London restored to former glory.
ECJ editor Michelle Marshall visits the world famous The Ritz Hotel in the heart of London, whose Portland stone facade has recently been restored to its former glory in just three weeks thanks to an innovative masonry cleaning system from Thomann-Hanry®.
"Situated in Piccadilly, The Ritz is one of London's most famous hotels. Opened in 1906 it has long been a destination for the elite traveller and has seen some truly historic figures go through its doors – Churchill, de Gaulle and Eisenhower held summit meetings there during the Second World War, while King Edward VII, King Afonso of Spain, Russian ballerina Anna Pavlova, the Aga Khan and Charlie Chaplin have all visited. The grandeur and opulence of both the interior and exterior are legendary.
Over the years, however, weather and pollution had taken their toll on the appearance of the external facade and the Portland stone was in need of some urgent attention. After exploring the systems available, the management decided on facade gommage®, which has been developed and provided by Thomann-Hanry®. First launched 25 years ago, this low-pressure dry masonry cleaning system has been refined over the years and been used to restore many of the world's most iconic buildings – the Kremlin in Moscow, MetLife Skyscraper in New York, Louvre Museum in Paris and Canberra's Australia War Memorial to name just a few.
The main differences between facade gommage® and other stone cleaning solutions are that it is extremely quick, and the building requires no scaffolding while the cleaning process is taking place. The Ritz restoration saw its 3,600 square metres of stone cleaned in just three weeks – more conventional methods could have taken up to six months.
Mark Styles heads up the UK operation that was responsible for The Ritz project, which he set up as a partnership with the French parent company in 2005… (more)"
Click here to continue reading the article
Back to news