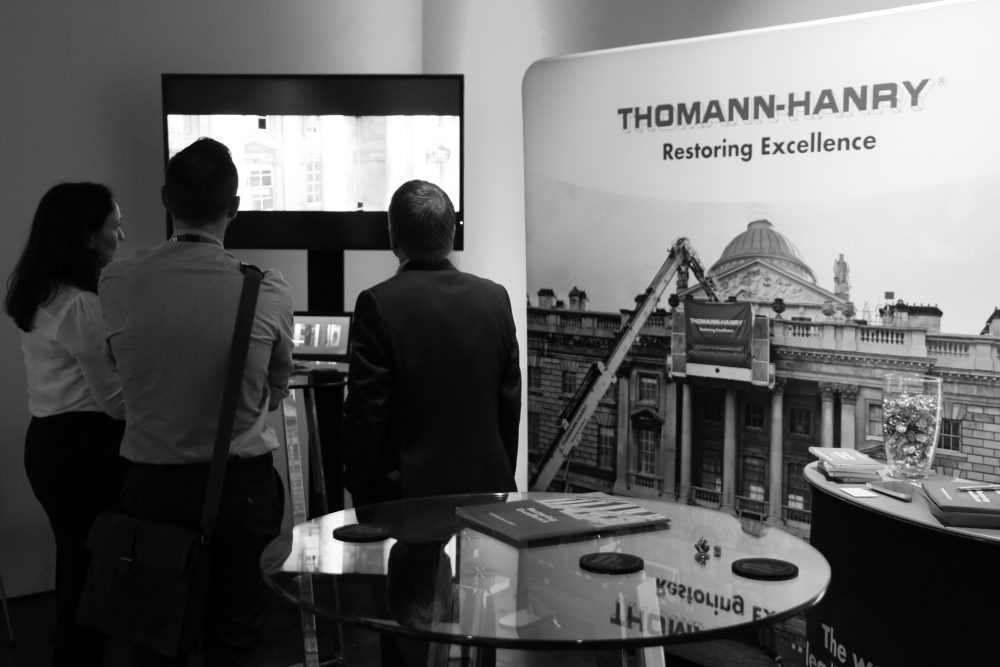 Thomann-Hanry® and the Chartered Institute of Building – the perfect team.
With our aim of working to rejuvenate many of the UK's most prestigious cities, we are delighted to work with the CIOB, with their focus on the improvement of the practices in the building and construction industry and their commitment to supporting those who work in building conservation.
Successful Management of Conservation Works – CIOB event at Somerset House
With so many historic landmarks within our portfolio, we were delighted to have the opportunity to take part in this event, hosted at the iconic Somerset House. Whilst there, we were able to showcase the cleaning and restoration work that we had recently undertaken on the South Wing of the building. CIOB members and associates had the unique opportunity to see first-hand the superb results our facade gommage® technique can produce, as well as understand how quickly and securely work can be carried out through our environmentally-friendly process.
Those of you who visited our stand at the event will have learned that we have a wealth of experience to share when it comes to cleaning and restoring historic buildings facades and will have learned about some of our previous projects, which include the Bank of England, King's College in Cambridge, The Ritz Hotel, the Reform Club, Australia House and many more.
If you didn't have a chance to pop by for a chat during the event then don't despair – you can still catch the beautifully-produced video showcasing our work at Somerset House here on our YouTube channel.
Working with the National Trust
We have recently become an approved supplier for the National Trust and have, so far, worked on the Cliveden Estate, Buckinghamshire, Fenton House in Hampstead and a number of listed cottages on the Bradenham Estate, also in Buckinghamshire.
Visit the CIOB events page to learn more about this event, guest speakers and their presentations.
Back to news