A revolution in building facade cleaning
The world leading facade cleaning experts
All too often, the facade of a building is left to endure the elements, with building owners and facilities managers opting to look after the interior rather than the exterior.
We have worked on many projects where the buildup of dirt has caused a building's original materials to become virtually unidentifiable, due most commonly to the 24/7 city lifestyle and the massive pollution created in this environment.
Exclusive scaffold-free facade cleaning experts
façade gommage® scaffold-free facade cleaning system was created and developed by Thomann-Hanry® in Paris. 'Gommage' is a French term that refers to the process of gently cleaning masonry.
How façade gommage® works
Projected under low pressure from a cabin mounted on a hydraulic boom, ultrafine dry particles of aluminium silicate – a chemically inert by-product of aluminium smelting flow across all surfaces, gently rubbing away decades of dirt before being drawn off, filtered and collected through a water curtain for recycling. This revolutionary process starts and ends with recycling, underpinning its impeccable green credentials.
The lightweight vacuum cabin can be suspended from outriggers or mounted on a hydraulic boom truck, with no need for costly and unsightly scaffolding.
To ensure consistent quality control, the materials and equipment our facade cleaning experts use adhere to a uniform standard all over the world – together with other onsite application processes. These procedures assure our clients that every project using façade gommage® will achieve the same impeccable standards.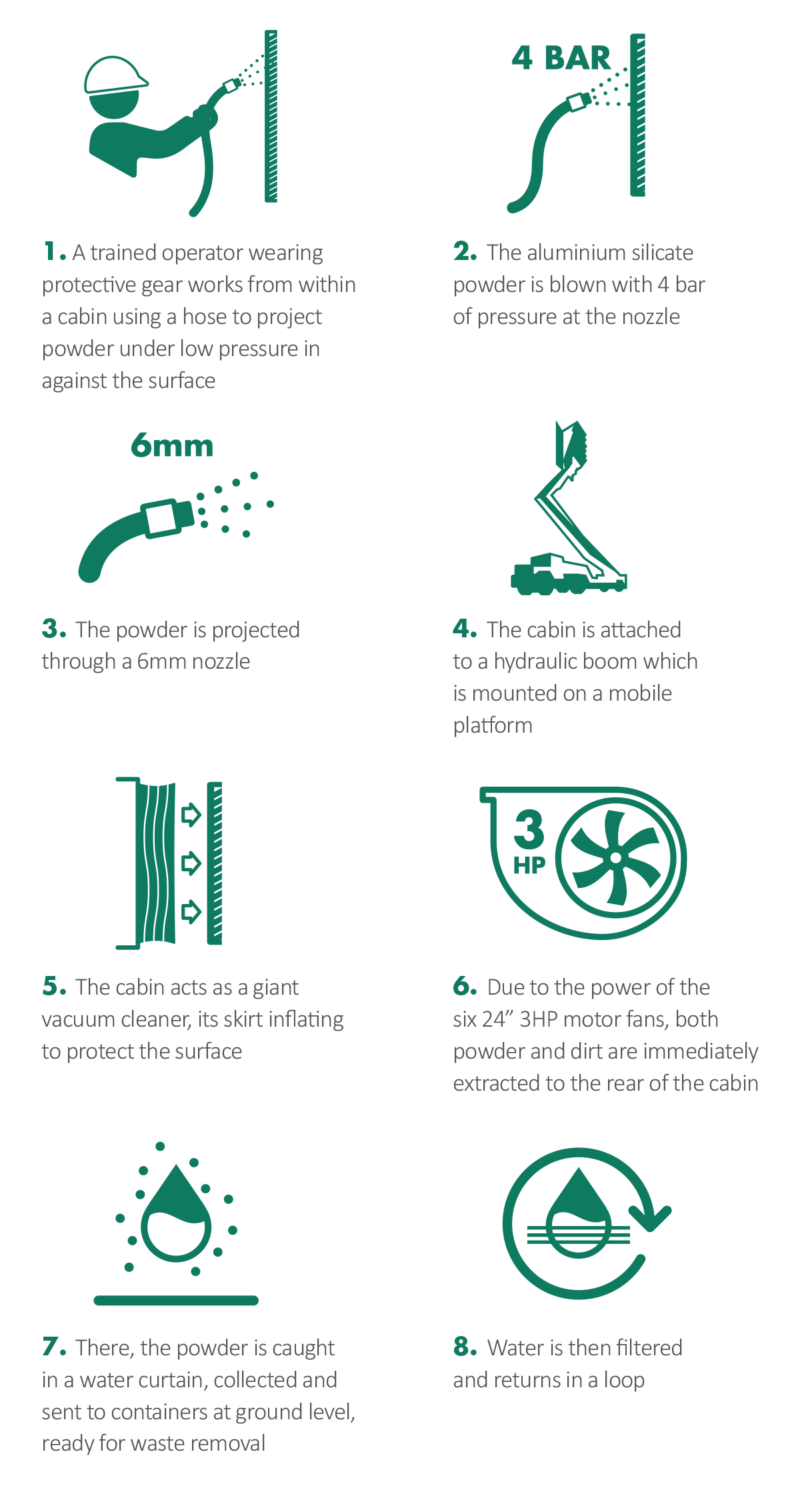 Speed up your facade cleaning project
With no need for scaffolding, our hydraulic boom-mounted cabin can be up and running within two hours of arrival on site. Hassle-free and causing minimal disruption, we can cover up an incredible 500 sq. m. of the façade per day.
Instead of disrupting the day-to-day running of your business, our platforms and truck mounts are fast and discreet, so cleaning takes years off your building without taking ages to prepare. And the less time your business is disrupted, the less money you'll lose.
Less loss of revenue
Your property should represent all that you're about as a business, so the last thing you want is to scaffold it into an eye sore.
By cleaning from a hydraulic boom mounted cabin, we can ensure that it looks its best throughout all works. Business can continue to run, minimising loss of trade, maximising profit potential, and maintaining 'as normal' day-to-day operations, whatever the business.
Modern & eco-friendly
The old way of doing things is changing. Thanks to our hydraulic boom-mounted cabin, our facade cleaning experts can work faster and more cost-effectively than ever before.
And being eco-friendly, there's no monstrous footprint. Many conventional façade cleaning processes involve blasting accumulated pollutants, grime, and residues off the surface of a building, using vast quantities of water with all of the environmental drawbacks that this entails. Using negligible amounts of water, which is continuously recycled through the extraction stage of the process to draw off cleaning residues, no chemicals, and not a single pole of scaffolding, façade gommage® is changing the face of façade cleaning entirely. It simply uses a by-product from aluminium smelting – an ultra-fine, inert and non-toxic powder with no chemical properties.
The only requirement of façade gommage® is power and air, which is supplied from the lorry itself.
Efficient & accessible
façade gommage® facade cleaning system can be especially noticeable when applied to large buildings of 500 sq. m. or more. However, many projects have been undertaken on smaller surfaces with the same astounding results. The boom can reach up to 42m from ground level and smaller machines are available for buildings in narrow streets or with other limited access.
As an innovation, the security and safety aspects of façade gommage® set it apart from traditional techniques. At the end of a day's cleaning, the cabin is simply retracted on its hydraulic boom, leaving property security completely uncompromised. From a Health and Safety perspective, the entire process is contained, unlike DOFF, TORC and nebulous spray techniques, which can inconvenience and potentially endanger passers-by as well as occupants of the building.
façade gommage® is a bespoke system globally operated by Thomann-Hanry® trained facade cleaning experts with no third-parties involved.
We are facade cleaning experts, so if you are concerned about the facade of your building reflecting poorly on your brand values, contact us to arrange a cleaning sample.
"Thomann-Hanry®'s façade gommage® system is the perfect solution for cleaning the hotel exteriors. Their unique system meant we were able to clean three elevations, including the main entrance, without disruption to our guests and we were able to keep all our rooms available. The setup and cleaning process is remarkably quick as they do not use scaffold and, most importantly, the results are outstanding."
Learn more about the façade cleaning systems on the market from our façade cleaning guide. The guide offers an in-depth look at the traditional façade cleaning methods.
For RIBA-accredited CPD seminars on façade cleaning, click here.
For façade gommage® COSHH datasheet, click here.
See our façade gommage® projects