Protecting the past
Historic buildings conservation
The key to cleaning historic natural stone façades is a combination of minimum impact with great care and attention.
Important things you need to know when planning for cleaning a historic building façade
Historic places attract people and investment, giving new life to their communities and playing a central role in regenerating towns, cities and countryside areas. Cleaning a historic building facade makes a significant contribution to their look and feel. Valuing the historic environment as an asset and giving it new life has also been a cornerstone of the economic and social revival of our towns and cities.
The careful integration of heritage assets has played an increasingly important and successful role in many major regeneration schemes, providing opportunities for conservation and development to work together in transforming the built environment.
Thomann-Hanry® work with conservation practitioners and ancient building experts in the UK, including Historic England, to maintain the highest standards of conservation practice and support the effective restoration of historic buildings by using a dry and non-abrasive building cleaning method. This system was originally developed specifically to solve the problem of surface damage caused by conventional cleaning methods. Known as façade gommage®, the process disperses a fine powder across building surfaces under a low-pressure airflow.
Rather than blasting surfaces with sand, water or other chemicals, layers of dirt are gently erased with a soft rubbing action, thereby protecting the natural fabric, look and feel of the historic buildings facades. With façade gommage®, the combined surface form and finish of masonry is respected at all times.
Carried out from a cabin on an agile lorry-mounted hydraulic boom, the process does not require any scaffolding. Moreover, as it does not require gallons of water or any chemicals, façade gommage® holds certified environmentally-friendly credentials and standards. It is a bespoke and completely sustainable system, as much as halving the time taken by traditional cleaning methods and causing no disruption to building occupants or pedestrians – with no loss of trade for commercial properties.
What is considered an historic building?
An historic building is ultimately a building or structure that has 'historic value' – i.e. when people in the present are connected to it via past events or a period of time – or by the significance of its construction methods, design and architecture. This value warrants it being afforded consideration in planning decisions. Many historic buildings in the UK are listed.
What is a listed building?
A listed building or structure is included on the statutory list of buildings of special architectural or historic interest, compiled by the Government on the advice of Historic England. Buildings are listed for their architectural or historic merit. All listed buildings are of national importance and therefore protected by legislation. However, some are considered of greater importance than others, hence the grading.
The grades and how this influences the works to a building
Whilst this might affect the nature or scale of works that might be acceptable to a building the key consideration is 'alteration to character'.  The simple fact is that the legislation does not refer to grades at all. The legislation refers to any listed building and applies to all listed buildings regardless of grade.
Grades – to indicate its relative importance, each listed building is graded in descending order from Scheduled Ancient Monument (of greatest historical significance) through to Grades I, II* and II.
As an example, the City of London boasts 589 Grade I and 1,387 Grade II listed buildings, with only one that pre-dates the Great Fire of 1666.
Discover the UK's listed buildings and properties on the Historic England website. They have developed a live map search making it easy to find places near you that are protected by listing.
Why is important to clean an historic building façade?
The primary concern is to prevent dirt build-up, principally from airborne particulates which may contain a range of potentially problematic materials – these can react with the stonework and reduce its lifespan. Damp areas are particularly likely to attract dirt – especially in a wet climate – and, if not already apparent, can be identified as the result of a clean. Thick layers of grime can retain water against or within masonry, resulting in increased salt cycling and accelerated deterioration of the stonework.
The removal of a seedling, for example, may prevent later damage from tree root growth and considerable disturbance to masonry. Dirt and staining, meanwhile, may obscure evidence of structural failures that could eventually lead to significant shortcomings, such as stone falling onto adjacent public walkways.
Regular cleaning will help to identify areas where there is an above-average build-up of dirt and salts. These may be indicative of more far-reaching problems which, if rectified at an early stage, could give rise to considerable cost savings in the longer term.
All buildings will eventually age and deteriorate. However, what we do to them can affect the rate of that deterioration. Using the wrong materials and applying the wrong principles to cleaning, repairs, alterations, etc. might accelerate the rate of decay and deterioration. Using appropriate materials and a sympathetic approach to the building can result in a much slower rate of decay and deterioration.
It is important to care and remember that older buildings, not just those that are listed, are technically different from modern buildings. From a technical point of view, certain works might be incompatible and could result in damage or at least future problems.
Listed Building Consent
Listed Building Consent is separate from Planning Permission and Building Regulations Approval. It is required for any works to listed buildings which may affect their character as a structure of special architectural or historic interest. Carrying out works without consent is an offence, punishable by a fine or term of imprisonment. The primary decision-maker on applications for Listed Building Consent is the local planning authority.
Here at Thomann-Hanry® we directly employ highly qualified consultants capable of submitting applications and supervising works, as well as dealing with any queries which arise along the way.
Example of a Listed Building Consent: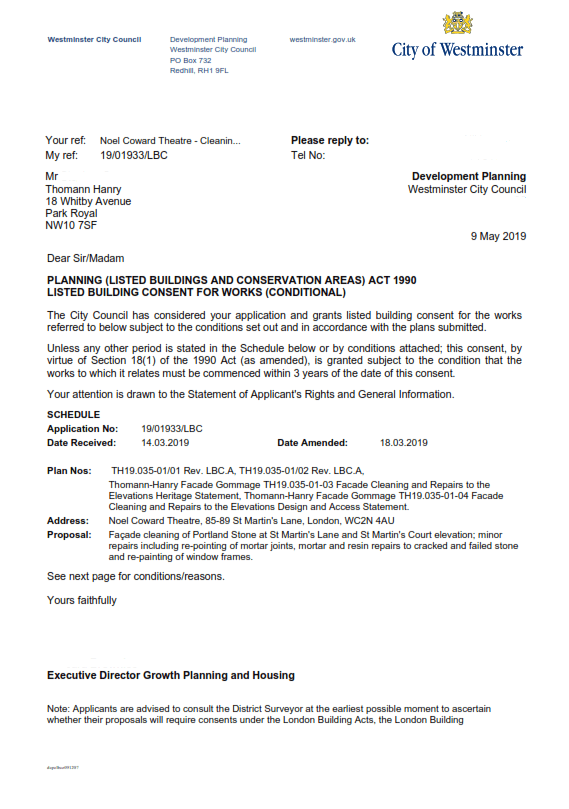 Contact us for more details on carrying out works on an historic building façade.
See our historic buildings cleaning projects