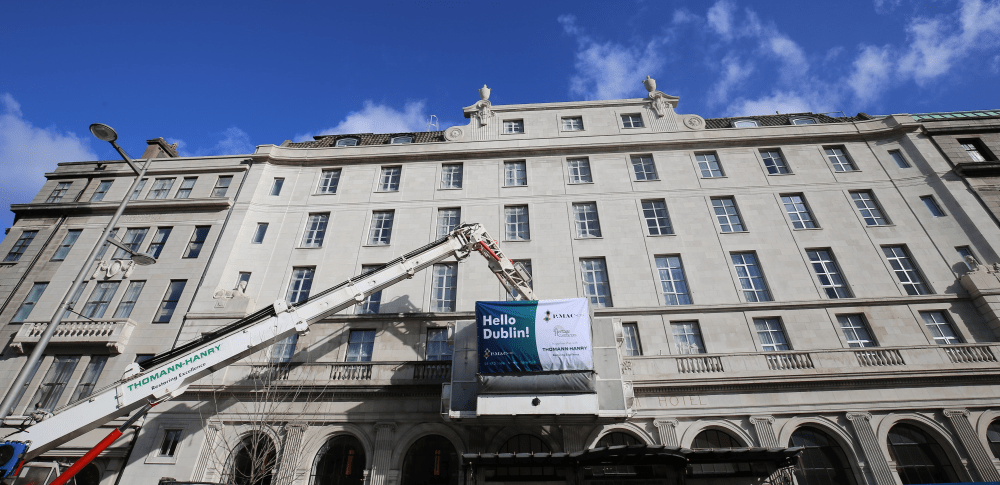 Thomann-Hanry® facade expert erasing 90 years of grime from the Gresham Hotel, Dublin.
As a facade expert, we have been appointed by P Mac Stone Cleaning and Stone Restoration to turn the clock back at one of Dublin's most iconic landmarks, the Gresham Hotel.
Blending Art Deco and neo-classical stylings to magnificent effect, today the hotel's stunning Portland stone façade betrays a lifetime of grime and pollution – a result of its prime position on one of the city's busiest thoroughfares.
The Gresham's eventful past marks it out as arguably Dublin's most historically resonant building. Echoing the city's turbulent history, the hotel was established in 1817, survived the 1916 Easter Rising more or less intact, before being destroyed by fire during the Civil War in 1922. Rising from the ashes in the 1920s, a new Gresham Hotel was opened on O'Connell Street. Formerly Sackville Street, this gracious boulevard was renamed in 1924 in honour of Daniel O'Connell, Dublin's renowned nationalist leader from a century earlier.
Befitting its heritage as one of Ireland's largest and most prestigious hotels, the new Gresham was designed by Robert Atkinson. Famed for his Art Deco stylings, perhaps best exemplified by the interior of the Daily Express Building on London's Fleet Street, Atkinson's architecture elegantly fused contemporary 1920s design with neo-classical inflections, imbuing the re-born Gresham with a façade of striking elegance and grandeur.
From the decorative elements, scrolls and beautiful carvings to the elegantly arched double-height windows at street level, the Gresham Hotel is today cherished as one of Dublin's most culturally and historically significant landmarks, standing as it does at the heart of a designated Architectural Conservation Area.
The hotel was purchased by Spanish Riu Group in early 2017. Their vision is to modernise the building throughout but to do so sensitively and in a way which honours and celebrates its iconic local heritage. To this end, Dublin's stone cleaning and restoration specialists P Mac were approached to carry out renovation works. Having worked with us ten years previously, principal Peter MacNamara knew Thomann-Hanry®, as a facade expert company, were the perfect choice for cleaning the façade and returning it to its pristine original appearance.
Using our patented façade gommage® technique, it will remove almost a century of dirt and grime from the white-grey limestone by projecting ultra-fine powders under low pressure onto the façade. Unlike conventional wet or dry abrasion techniques – which blast dirt away with the inevitable potential for collateral damage – or equally aggressive chemical cleaning methods, façade gommage® projects powder across the masonry, gently rubbing and erasing the overlaid layers of dirt to reveal the pristine stonework beneath, before being carried away and recycled.
The real beauty of façade gommage® for a public-facing establishment such as the Gresham, however, is that it is the only technique which does not call for the building to be shrouded in unsightly scaffolding for weeks, perhaps even months. Working from a cabin on a lorry-mounted hydraulic boom, our highly skilled team expect to complete the entire façade clean in under two weeks. Less disruption to guests, staff and passers-by; none of the security concerns of scaffolding; and stunning results achieved in a barely believable timeframe, façade gommage® is perfectly suited to restoration projects such as the Gresham Hotel.
"As a Dubliner, I am delighted to be involved in the restoration of this landmark and culturally significant building. The cleaning and restoration of the front façade will really showcase the hotel's magnificent presence on O'Connell Street and will have a significant effect on the enhancement of the area in general."