K+K Hotel George Kensington restoration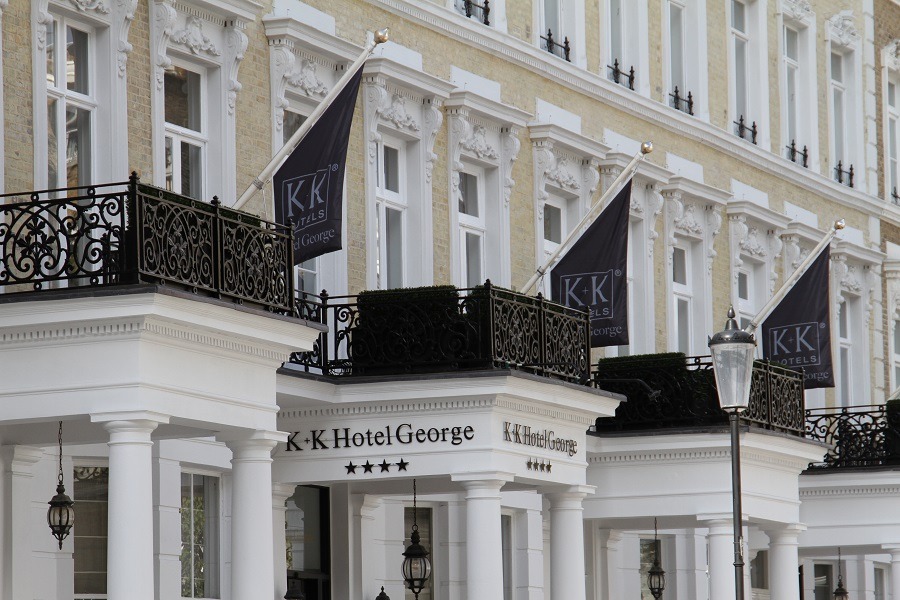 In an intensive 3 months project involving multiple company divisions, restoration specialists Thomann-Hanry® have stripped over 20 layers of paint and decades of indifference off Earls Court's K+K Hotel George Kensington.
Thomann-Hanry® take a stripped-back approach to renovation in Earl's Court, revealing the original 19th splendour of K+K Hotel George Kensington.
Building history and area
The steady, continued gentrification of Earl's Court in recent times has seen many parts of this corner of SW5 restored from faded bohemian grandeur to chic refinement and sophistication. In an area where stuccoed terraced houses with Italianate dressings rub shoulders with Jacobean and Second Empire influences, the K+K Hotel George Kensington originated as six houses on Templeton Place. With sister properties across Europe, including Barcelona, Paris, Vienna and Prague, the K+K luxury hotel group has become known for its imaginative fusion of modern style and facilities in historical buildings and settings.
Restoration specialist works
Thomann-Hanry® were approached in 2019 to restore the facades of the K+K Hotel George Kensington. With over 20 layers of paint obscuring the original brickwork, was project as much about as what needed removing as what needed retaining and refurbishing. Moreover, its location in a conservation area meant consent was required from the local authority before even a single coat of paint could be removed.
The starting point of the project was a meticulous preparatory survey, carried out to ensure best practice and anticipate any unforeseen problems. As with all buildings of this age, there was a strong possibility that deleterious substances such as lead or arsenic could be present in the paintwork. If, as in the case of the K+K Hotel George, lead is identified, all works are legally required to conform to Control of Lead at Work (CLAW) regulations to ensure its safe and compliant disposal.
Alongside the presence of lead, the survey revealed other significant issues. These included corrosion within the ferrous bracketry and the retention of moisture against the façade by multiple layers of paint. As a result, Thomann-Hanry® recommended that all layers of paint should be removed, stripping the building back to its original brickwork, enabling the façade to be redecorated with age-appropriate materials, such as lime-based renders and breathable mineral paints.
Due to the complex nature and sheer scale of works required it was agreed that, unusually for Thomann-Hanry®, scaffolding would be required across the front façade. Installed with a temporary roof and shrink wrapped for neatness, the entire façade was restored over an intensive 3-month programme of works.
At times, all ten members of the company's specialist painting and decorating division were deployed on the project. Working ten-hour days, seven days a week, they were joined on-site by stonemasons, a restoration specialist and four labourers, with daily deliveries of materials and safe removal of often hazardous waste products such as lead paint flakes. Due to the high lead content, appropriate PPE was worn to ensure the safety of personnel at all times.
The results in detail
With so many layers of paint removed, beautifully ornate original features, such as carved lion heads on the mouldings were revealed. Previously decayed pointing on 210 sq. m. of exposed brickwork was painstakingly cut, restoring the façade to its original glory. Damaged bricks were either repaired or replaced altogether after paint layers were chemically stripped and then the last residues removed using micro-abrasives. 40 corbels across the frontage, many held together by paint film, were meticulously restored by the Thomann-Hanry® restoration team.
Wooden doors, windows, frames and sills were all repainted, as were all masonry, window surrounds and corbels, which were restored and redecorated with lime-based renders and over 210kg of Keim mineral paint.
To complete the project, balconies were re-asphalted; lead installed to the main cornice; pigeon spikes, pin and wire installed to all balconies; and ledges and all metalwork redecorated, including perimeter, balcony railings and downpipes.
A complex exercise in the coordination of complementary restoration techniques, the K+K Hotel George Kensington showcased the multi-disciplinary talents of Thomann-Hanry®.
The results may have taken longer and been more labour-intensive than those achieved by the company's signature façade gommage® process, but the astonishing results are no less impressive.