Sketch exterior building restoration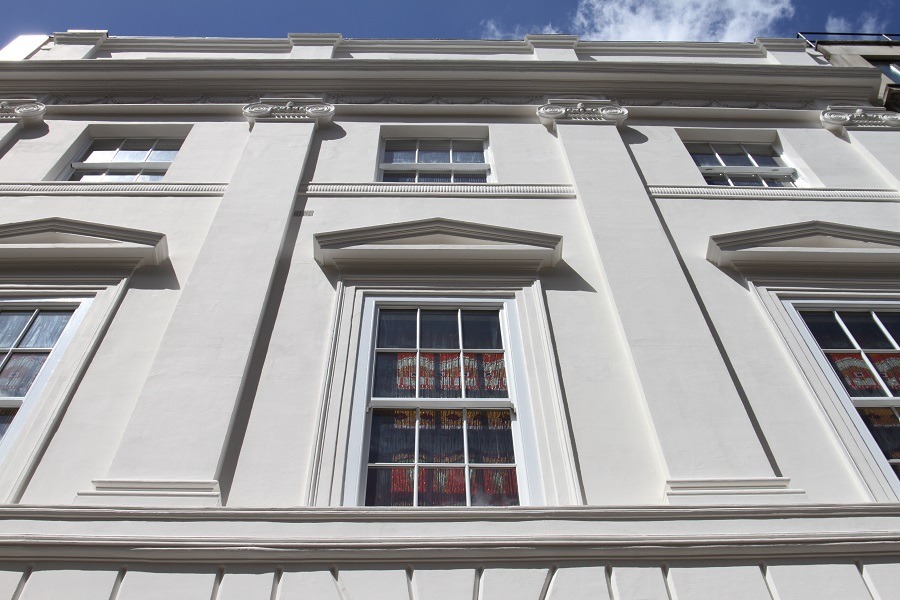 Research, surveying and preparatory works form an important part of any building restoration project, but few rival the sheer complexity and detail demanded by Thomann-Hanry® for our recent façade renovation at Mayfair's iconic Sketch restaurant.
Sketch, paint and the fine art of restoration.
9 Conduit Street has been home to Sketch since 2003. Awarded its third Michelin star in October 2019, the restaurant's dazzling New French cuisine has seen it's ranked amongst the world's top twenty establishments by Restaurant Magazine. The meteoric success of Sketch is just the latest chapter in the rich and storied history of this Grade II listed townhouse.
Building history
Initially a private residence, it was designed in 1779 by English gothic architect James Wyatt, whose distinguished career spanned work on Fonthill Abbey, Ashridge and Oriel College, as well as royal commissions for alterations at Frogmore and Windsor Castle. The architecture of 9 Conduit Street features a giant order of Ionic pilasters through the first and second floors with enriched frieze and cornice and an attic storey with cornice and blocking course. On the ground floor, which is rusticated up to plat band, the imposing entrance is flanked by Doric columns with fluted frieze and mutual cornice. Of added historical note, it was also one of London's first buildings to make use of Roman Cement.
Throughout its history, the property has been home to a wide variety of societies and institutions, reputedly including cyclists, psychologists and balloonists and, more reliably, the Suffragette movement, Christian Dior and RIBA. RIBA's tenure at Conduit Street extended from 1887 to 1909. During this time, the Royal Institute hosted a competition to re-design Wyatt's original 18th-century façade. The project was never realised, but the RIBA archive at the V&A retains a number of the submitted proposal drawings. Preserving its lineage, an image of 9 Conduit Street is engraved on the fine 1930s bronze doors of the Institute's current headquarters in Portland Place.
Exterior building restoration works
In order to achieve an absolutely authentic and sympathetic restoration of the façade, Thomann-Hanry® undertook a meticulous preparatory facade survey and archaeological investigation, in addition to commissioning independent paintwork analysis. Such groundwork helps to ensure best practice, as well as anticipating any otherwise unforeseen issues, including the presence of any deleterious substances, such as lead or arsenic in the paintwork. For example, if lead is identified in the existing paintwork, all works are required to conform to Control of Lead At Work (CLAW) regulations for its safe and compliant disposal. In the case of Conduit Street, forensic levels of analysis were also key to guaranteeing a perfect restoration of such an important historical structure, including matching lime render to redefine aspects such as Arris details.
Works commenced upon satisfactory completion of this preparatory research. With a significant degree of lengthy render restoration work required, the decision was taken to scaffold the 240 sq. m.  frontage and cover it with a specially designed hoarding. Apart from finishing applied from mobile platforms, all work was carried out by hand by the Thomann-Hanry® team of restorers, painters and decorators. The two-month project entailed a complete exterior building restoration, with repairs to Roman stucco on flat surfaces and intricate mouldings, many of which had to be completely reconstructed.
All previously painted masonry surfaces were then redecorated with Keim mineral paint, with all woodwork repainted using a four coat Dulux system. Lead repairs were carried out to the roof and ongoing lead testing conducted in the restaurant and public areas to monitor for any dust settlement from the works.
Commenting on the finished project, Thomann-Hanry® Painting Supervisor Russell Butler observed: "This was an incredibly painstaking, but equally rewarding project. With such history and importance attached to this building – and after so many years of relative neglect – we knew that nothing but excellence would suffice to bring this building back to life. I'm proud to say we achieved that."