Our scaffold-free facade cleaning in Construction Index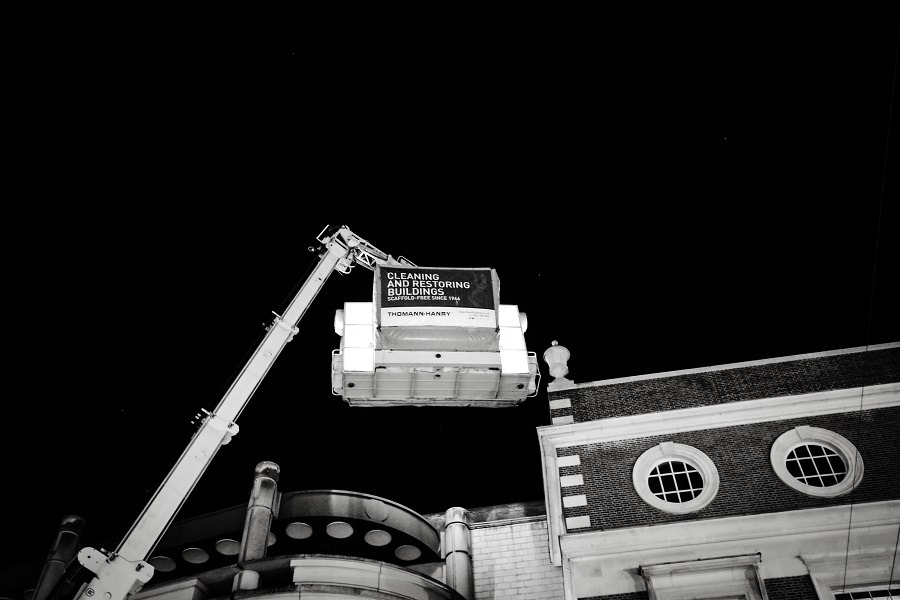 Cleaning up with façade gommage®.
A London-based specialist contractor is making itself popular with building owners thanks to a novel method of scaffold-free façade cleaning.
By David Taylor, Construction Index
Maintaining the external fabric of an old building generally involves repairs to the masonry, roof and openings. In most cases, this will mean routinely repointing the brickwork, re-slating the roof and painting the window frames. Actually cleaning the façade and removing years of built-up grime is done on a far less frequent basis – and with good reason.
Cleaning the Portland stone façade of a large landmark building traditionally requires an extensive scaffold to provide full access so that a combination of steam, water and chemical cleaning products can be applied. It's slow, it's messy, it's expensive and it's highly intrusive for the users of the building.
There is one technique, however, that avoids all this hassle and gets the job done in no time at all. It's called 'façade gommage®' and there's only one company in the UK that offers it.
Thomann-Hanry®, headquartered in Park Royal, north London, are the UK representative of the eponymous Paris-based contractor that developed the façade gommage® method during the 1980s. Managing director Mark Styles was running his own small building company when he first encountered façade gommage® about 15 years ago.
"I was a general builder, doing mainly residential and commercial projects in London when by chance I met someone who'd been working out in France and had seen this technique being used," explains Styles.
His contact described a technique that required no scaffolding, created no mess and was incredibly quick. Styles immediately realised that such a system could prove very popular among the owners of the many Portland stone-clad buildings in London's West End. So he contacted Thomann-Hanry® in Paris and paid them a visit. A relatively small and highly-specialised company, founded in 1945, Thomann-Hanry® are family-owned and had no ambitions for international growth. But Styles persuaded the firm to license its technique to him so that he could set up what is essentially a franchise based in London."
Click here to continue reading the article.
Back to news