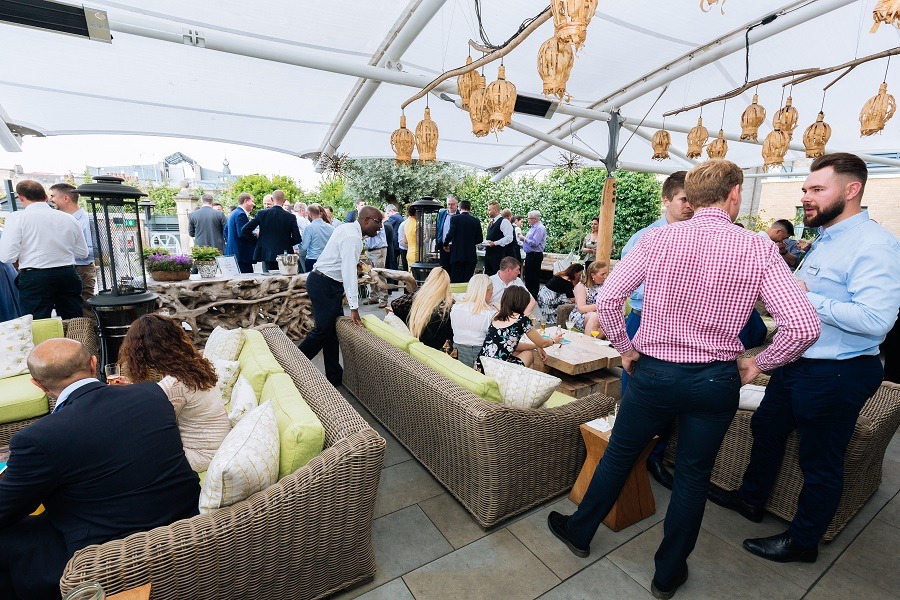 What a spectacular evening!
A property and construction event with a glam touch – Thomann-Hanry® host Annual Industry Summer Party.
Last July 6th witnessed Thomann-Hanry®'s Annual Summer Party on the stylish rooftop terrace at the Ham Yard Hotel, London. Seen as a must-attend gathering for those associated with the building façade cleaning and restoration industry, this prestigious, private reception provides a fantastic platform for high-level networking with clients and associates in exquisite surroundings.
Up to 120 guests attended the event including facilities managers, architects, property owners, surveyors, and property consultants. Those attending included property giants such as JLL, CBRE, Knight Frank and Savills, as well as leading architect practices and representatives from well-known establishments such as The National Gallery, the Chartered Institute of Building, the Reform Club, among others.
Supporting the idyllic-themed roof terrace, delightful canapés and barbecue were served along with fresh summer punches and champagne, available to the guests throughout the evening.
Music was provided by the talented guitar soloist Marcello Constantinou who played the classics and the latest hits, enchanting the atmosphere.
"We've been welcoming clients and industry leaders to our Annual Summer Party for over seven years now. Our aim is to provide us both with the opportunity to get to know each other better, whilst networking with fellow industry colleagues. We had a fantastic feedback from this year, exceeding all expectations."
We can't thank enough those who joined us at the stylish Ham Yard Hotel and look forward to seeing you all in 2019.
Here are some of the highlights of another memorable event! #THSummerParty2018
What our clients say:
Ray McAuley, Morgan Singall – "Thank you for a really enjoyable evening. I really appreciate the invitation and it was a cracking evening with excellent company at a super location and wonderful food too!

Mukta Hashimi, CBRE GWS – "Thank you for your kind hospitality – it was a fantastic event as yours always are!"
Martin Roberts, Sizebreed Construction – "Many thanks for inviting me to your Summer Party! It was a great evening  – superb venue and company – plus the weather was perfect!"
Back to news