Hotel Principe di Savoia, Milan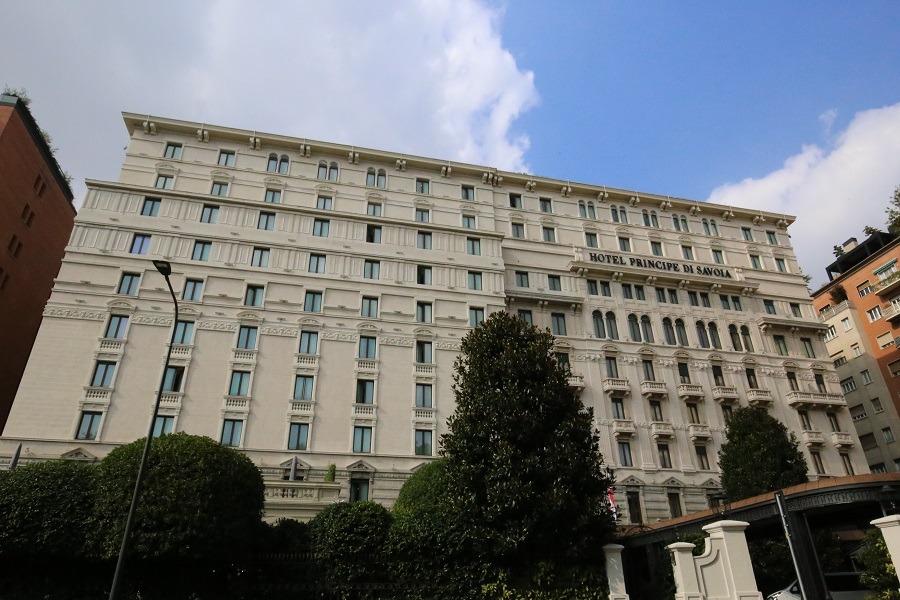 Welcoming guests in opulent grandeur since it opened in 1927, Milan's iconic Principe di Savoia is the quintessential luxury hotel, frequented by international aristocracy, powerbrokers, artists and celebrities. Designed in elegant neoclassical style by prominent Milanese architect Cesare Tenca, the hotel was strategically sited to capitalise on Milan's burgeoning status as Italy's capital of finance, fashion and design.
Translating façade gommage® into Italian – Thomann-Hanry® breathe new life into Milan's Principe di Savoia
During the second world war, the hotel was commandeered as a headquarters, first by the Germans and later by the Americans. Emerging from the conflict relatively unscathed, the Principe di Savoia was renovated and enlarged with two new wings in the 1950s.
Throughout its illustrious history, the hotel's guest list has been a roll call of the great and the good, from Charlie Chaplin and the Duke of Windsor to the Aga Kha and Aristotle Onassis. The Principe di Savoia was acquired by The Dorchester Collection in 2003 since when it has undergone a renaissance, restoring it to its place as one of Italy's most prestigious international hotels. As part of that process, Thomann-Hanry® were approached by the Dorchester Collection to breathe new life into this iconic landmark.
Proving that distance is no object, we sent a team of six expert operatives and lorry loads of specialist cleaning equipment some 750 miles to Milan. Tackling the entirety of the hotel's nine-storey, 10,000 square metre façade in several phases over just seven weeks, the company's patented façade gommage® technique was used to turn the clock back decades and reveal the Principe di Savoia as it first appeared in the 1920s.
This unique process is carried out from a sealed cabin, mounted on an agile lorry-mounted hydraulic boom and projecting fine cleaning powders across the façade under compressed air. Gently rubbing, rather than blasting, decades of accumulated dirt and grime from the concrete and lime render façade, the process is perfectly suited to historical structures such as the Principe di Savoia. Better still for hotel guests and staff, the hydraulic boom was retracted at the end of each day's work, enabling transformative cleaning without a pole of scaffolding in sight – and with minimal disruption to the day-to-day running of the establishment. In addition to cleaning, some stone repair work was also undertaken, restoring the façade to its former glory.
Working closely with the hotel's Italian management and staff, as well as other local services, this prestigious project also stands as a testament to collaborative skills that transcend barriers of language and nationality – an exemplar of international cooperation in an era when that has sometimes felt in short supply.
Synonymous with the rebirth of many of London's most iconic landmarks in recent years, Thomann-Hanry® are proving equally adept at working at distance, widening the scope of the remarkable façade gommage® process to benefit buildings, new and old, across the length and breadth of Europe.