Alitalia House, Oxford Circus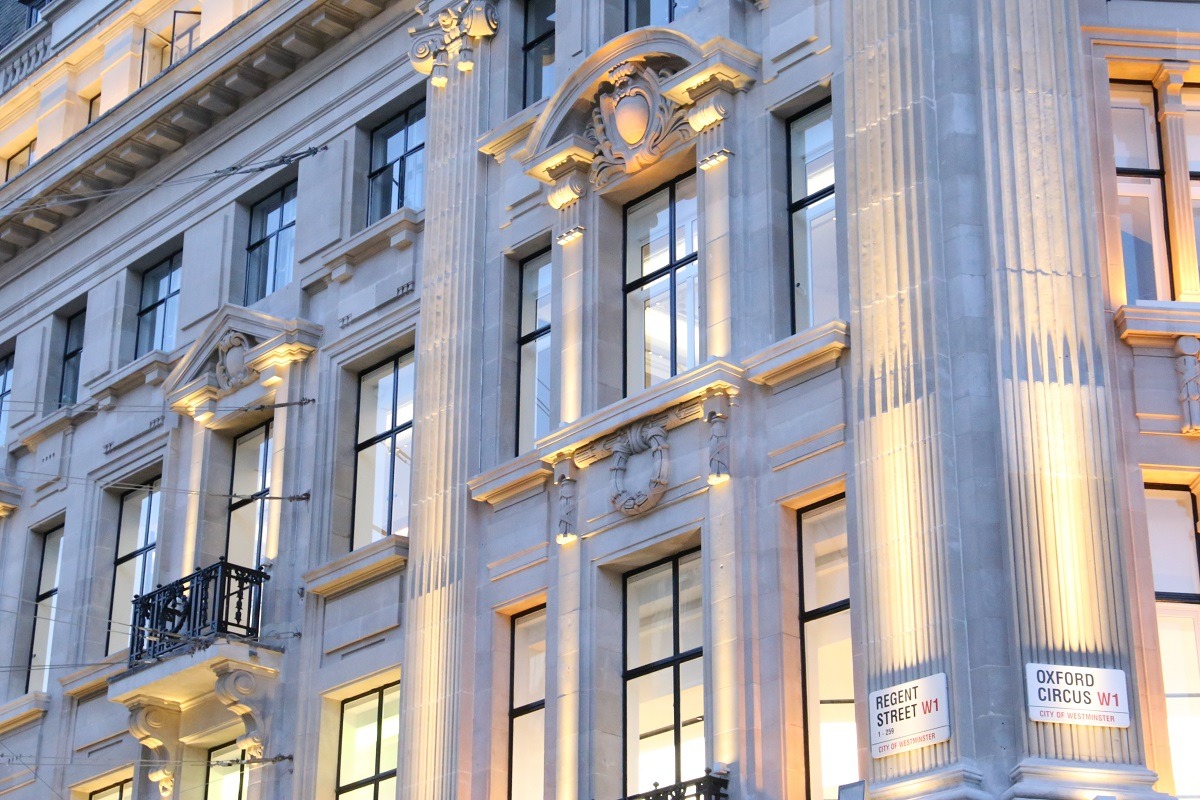 Designed by William Tanner almost a century ago, the Alitalia House elevations feature ornate Beaux Arts details, all of which façade gommage® took in its stride, the delicacy of the process being ideally suited to fragile, historical masonry.
Thomann-Hanry® are changing the face of retail premises.
Typically, when prioritising maintenance and upkeep works, retail building owners and facilities managers favour the low-hanging fruit of interior re-fits and renovation over external works.
Understandably so, when one considers the duration of conventional steam, water and chemical-based cleaning processes on often extensive shopfronts, all of which entail cladding the building in scaffolding for months on end. Unsightly, disruptive and a deterrent for potential shoppers, all façade cleaning processes require scaffolding – all, that is, except one.
Thomann-Hanry®'s façade gommage® offers a swift, economical and environmentally sound alternative. Working from a lorry-mounted hydraulic boom, inert, fine powders are projected under low pressure across the surface of the building, erasing layers of accumulated dirt to reveal stonework and masonry as it first appeared.
Gentle, agile and non-disruptive, the process is ideally suited to historical buildings and has seen Thomann-Hanry® restore some of Britain's most iconic buildings to their former glories, including the Bank of England, The Ritz and King's College, Cambridge.
Following on from spectacular results achieved for the Crown Estate at Roxburghe House in Regent Street, Thomann-Hanry® have recently completed façade cleans at other nearby landmarks, also owned by the Crown, and occupied by significant tenants in the retail world.
Alitalia House, on the south-west corner of Oxford Circus, is now Microsoft's flagship London store. Along with other works, including stone restoration, asphalting of balconies and slating, we were commissioned by the Crown Estate to clean the grade II Listed building's frontage – 4,000 square metres of Portland stone. Working overnight and therefore discreet and unseen by most shoppers, visitors and locals, an almost miraculous transformation was achieved in just twelve nights of cleaning. Other works included window repair and stone restoration.
Thomann-Hanry® Managing Director Mark Styles observed:

"When considering an exterior clean of a retail unit, using a unique system that does not require the use of scaffold is a huge benefit – not only to the safety of workers but to the functioning business as works take place. The three latest Regent Street outlets – Alitalia House (Microsoft), Spirella House (Tezenis) and Hamleys – add to our portfolio of leading retail clients, including Ralph Lauren, Primark and TopShop, underlining the suitability of façade gommage® to shop premises, especially in historical buildings."