25 Kensington Gore, private residence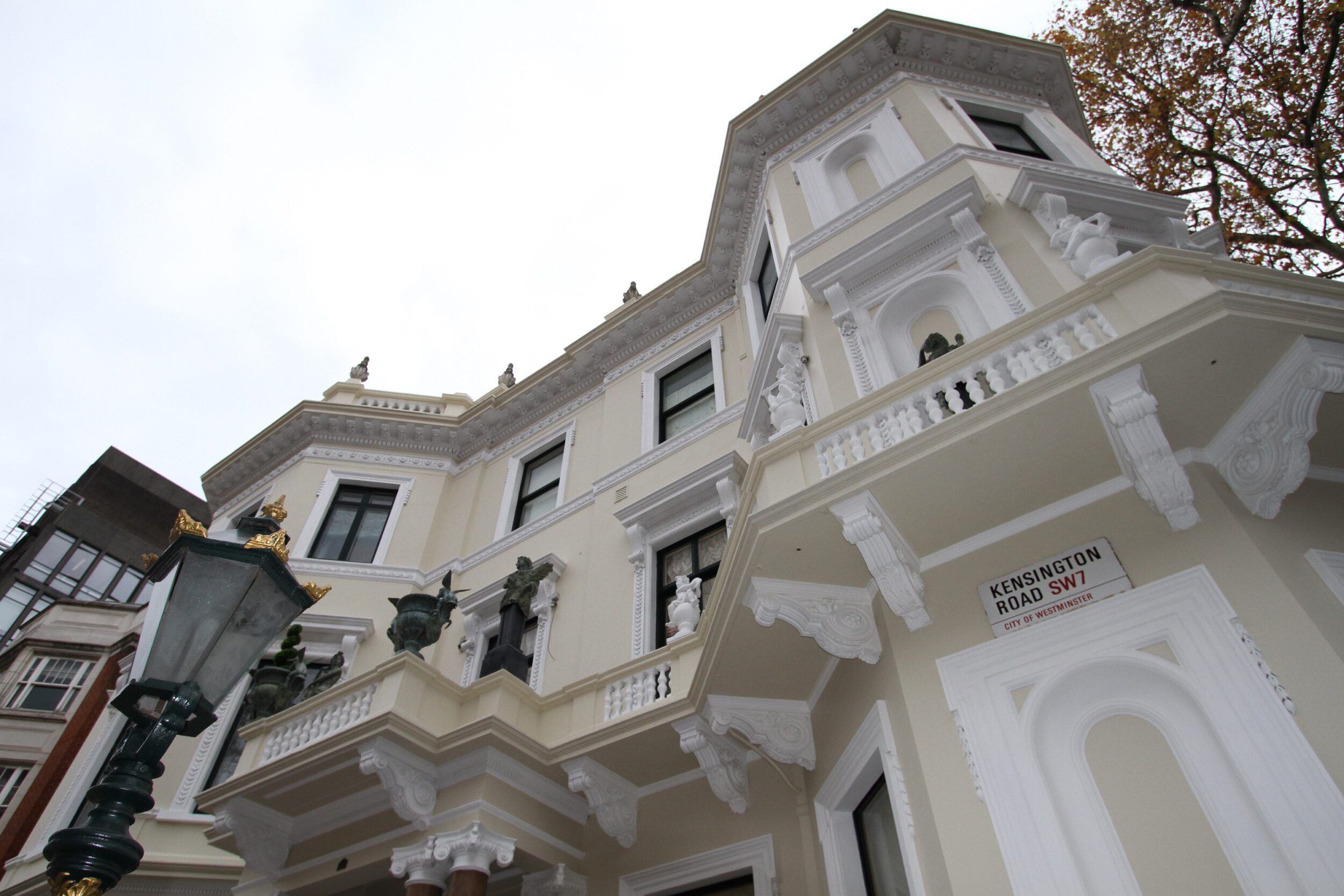 Set imposingly on a small plaza dominated by a statue of Lord Napier astride his horse, 25 Kensington Gore is a prime example of spectacular mid-19th century architecture at its finest, complete with a first floor balcony, square headed windows, architraves, rich cornice and a porch flanked by Ionic coupled columns.
Designed by renowned architect Samuel Whitfield Daukes, this opulent mansion was built by Sir Samuel of Samuel Montague Bank between 1873 and 1875. With no fewer than six stunning reception rooms, a dining room for 32 people, four kitchens and wine cellar, the three-storey (plus attic and basement) mansion also boasts views across Kensington Gardens and Hyde Park from its magnificent roof garden.
Thomann-Hanry® were commissioned by Gore Property Management Ltd to restore this grade II Listed building's opulent façade. In a job lasting eight weeks, we've restored and painted the façade and windows, as well as redecorating the cast-iron railings. With a total surface area of 10,000 sq. m. of lime render, façade restoration and redecoration called for around 700 litres of Dulux Salisbury paint. The meticulous, intricate work on the railings, meanwhile, accounted for almost 90 litres of Metalshield. All works were undertaken by MEWPs (Mobile Elevating Work Platforms).
Completed without using the company's signature façade gommage® process, this prestigious project reflects the widening scope and market awareness of restoration expertise offered by Thomann-Hanry®. A company that first made its name through one sought-after specialism, now recognised as a first port of call for all types of restoration and redecoration work on historic buildings.