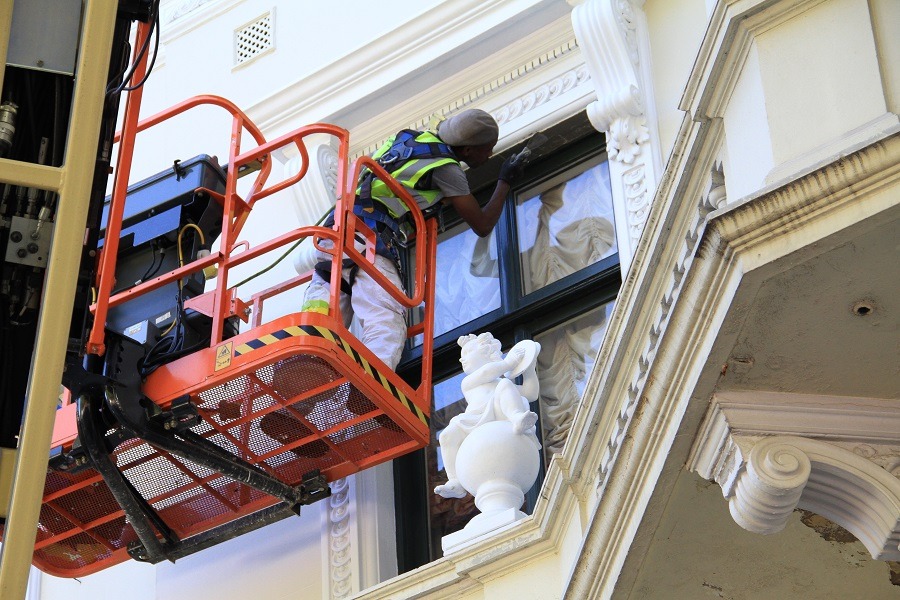 Company news and our building restoration work in 2019.
Thomann-Hanry®'s upward trajectory continued in 2019, the busiest year yet since our inception in 2005.
Welcome to the latest edition of our annual review. We very much hope that you enjoy reading it as much as we've enjoyed reviewing content and trying to condense all our exciting news and our building restoration work into one short publication. 2019 was our best year ever, both financially and in terms of growth and change.
Whilst façade gommage® has remained in strong demand, this was the year that our restoration and decorating teams really came into their own with a large number of standalone projects, such as the painting of over 1000 windows at The Landmark on Marylebone Road and the restoration of severely corroded balconies at The Adelphi in Strand. True to our roots, our methodologies still focus on completing this work without scaffolding and with minimal disruption. This is a key differentiator that will always remain at the core of everything we do.
July saw many of us swapping the delights of the British Summer for ice cream, fashion and, unfortunately, a rather large number of mosquitoes in the economic heart of Italy – Milan. Working for the Dorchester Collection, for whom we are just about to clean the celebrated Dorchester Hotel in London for a second time, we cleaned the Principe Di Savoia – a 10,000 sq. m. 5-star hotel in the heart of Milan. An exacting and very tight programme saw us driving most of our equipment through the alps along with most of the materials, almost all of which were unavailable in Italy due to the Summer shutdown.
November saw us returning to the Considerate Constructors Awards. Following our win in 2018, we thought another big win would be unlikely but we are happy and very proud to say we won Gold and were Runner-up for the big prize as we were in 2017. More than anything, this award is a real team effort and cannot be won without all our staff understanding and buying into our culture.
On the subject of culture, we welcomed our new People and Culture Manager. As we move toward doubling our staff numbers from the previous year average, we know that they will be the right people, who fully understand our culture and behaviour – enabling us to maintain the Thomann-Hanry® ethos.
Office Manager Anca Quyn and façade gommage® Cabin Operator Marcin Hajduk's ten year anniversary with the company was a timely reminder that our early days are far behind us now – and an impressive roster of clients and projects in 2019 reflect our standing and influence within the sector today.
The company has increasingly been enlisted not just for façade gommage®, but for wider building restoration works that speak to today's wider market perception of Thomann-Hanry® as a specialist in all aspects of reviving buildings – from the historic to the modern.
In other ways, it was business as usual in 2019. More awards, our much talked-about Summer and Christmas events and the continuing development of our CPD and webinar education programme helped enhance our reputation, connect with our industry colleagues and inform the wider market.
It's been a great year – and you can read all about it in our 2019 newsletter. We hope you enjoy it.
Back to news