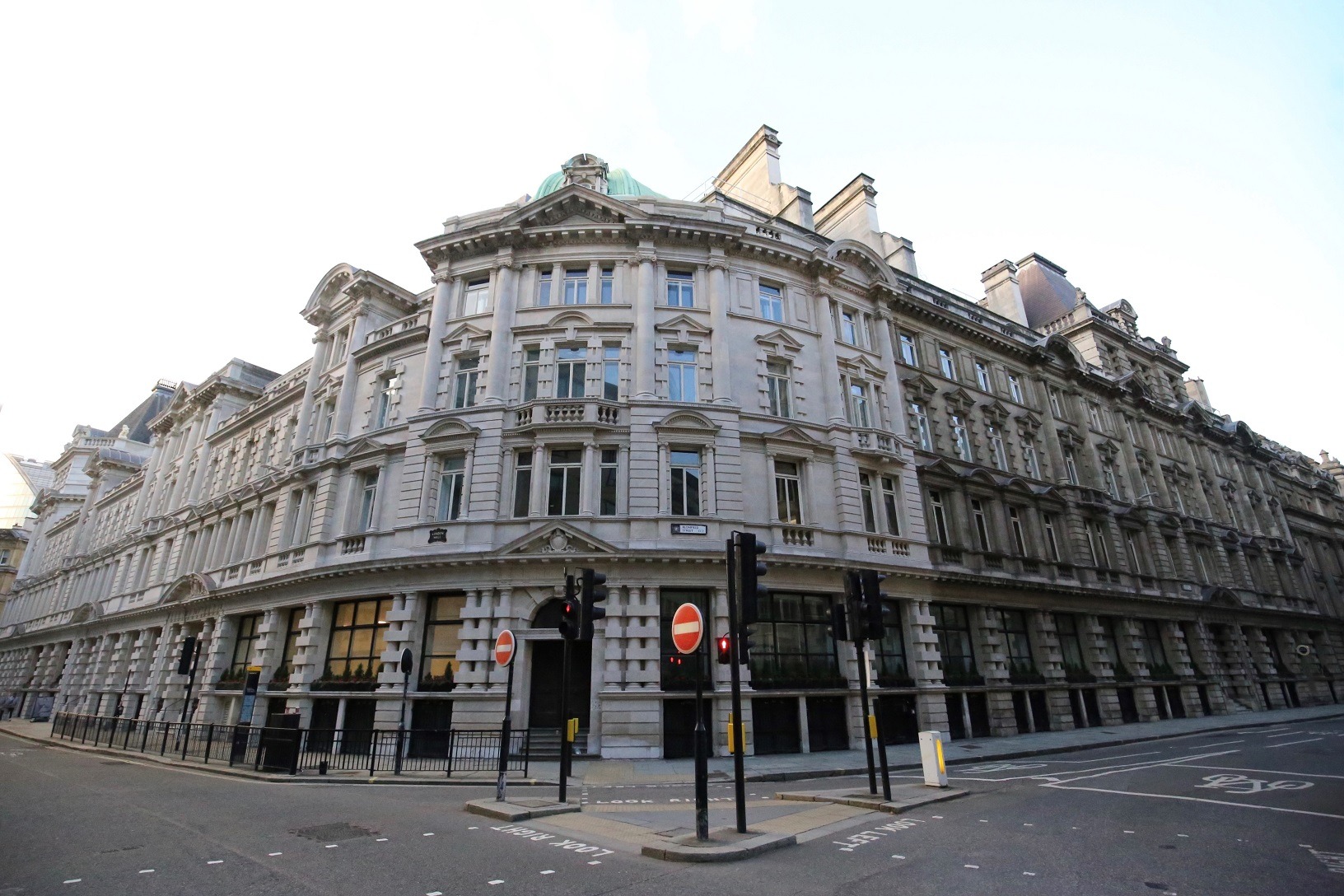 Standing on the footprint of part of London's original Roman Wall, 1-5 London Wall Buildings in EC2 is an object lesson in the remarkable restorative powers of façade gommage®.
Thomann-Hanry® were commissioned to clean and revive the imposing Portland stone frontage of this City of London office block as part of a refit project during the COVID-19 lockdown. The results are truly impressive.
Roman origins
Remnants of the original Roman Wall, built in the late 2nd to early 3rd century, still stand to this day in locations such as Tower Hill and the Barbican estate. It is thought the wall was constructed as part of the response to the invasion of northern Britain by the Picts, who overran Hadrian's Wall between 180 and 190 AD. One of the biggest building projects undertaken in Roman Britain, its construction coincided with a power struggle between Clodius Albinus, the Roman Empire's governor of Britain, and Septimus Severus, who oversaw a subsequent period of prosperity in 3rd century London (then known as Londinium).
Echoes of this long history resound in modern London, with names derived from gateways in the original Roman wall – Ludgate, Aldgate, Newgate, Cripplegate and Bishopsgate.
London Wall Buildings, in Finsbury Circus, stand on foundations of part of the original wall. Designed by Gordon and Gunton, this striking five storey neoclassical edifice was built in 1901 in London's signature Portland stone, with mansard slate roofs to the end pavilions on Blomfield Street. The round arched entrance is set in a two storey porch with Ionic columns, in a frontage architecturally characterised by pedimented dormers and rusticated columns.
Power, precision and speed
In a renovation project planned, organised and carried out through the COVID-19 lockdown, some 1,600 sq. m. of façade were restored to their original splendour, showcasing the power, precision and speed of façade gommage®, the pioneering cleaning technique patented by Thomann-Hanry®. Projecting fine, light but sharp powders under compressed air across the stonework surfaces, façade gommage® gently rubs and lifts away decades of accumulated dirt and grime, removing them for recycling.
Carried out from a cabin on a lorry-mounted hydraulic boom, the process is an agile and unobtrusive alternative to conventional cleaning techniques, which invariably call for a building to be shrouded in scaffolding for weeks on end – if not months. More commonly accustomed to working in city-centre locations during busy, high-traffic conditions, the four-man cleaning team had the unusual experience of working in the near silence of lockdown London.
All windows were taped using the company's Palfinger machinery, protecting the interiors of the building from the ingress of dust and particles. Our proprietary façade gommage® platforms were used for the clean itself.
In just nine days, across five weekends, the entire frontage of 1-5 London Wall Buildings was cleaned and returned to its pristine original appearance, reviving the distinctive white-grey hues of the iconic Portland stone.
The results are little short of spectacular, with the 120-year-old stonework responding flawlessly to a perfectly matched cleaning technique. With Roman roots and a classic architectural heritage, London Wall Buildings are a case study in the power of 21st century restoration.